Written by Dan on March 27, 2011
Another FATV interview with Ashley Young, this time post-match with what looks like Kyle Walker stuffing his face in the background. As you'll no doubt be aware, the Villa lads were once again instrumental in England's 2-0 win over Wales in their Euro 2012 qualifier with Ash winning the penalty for the first goal thanks to a clumsy challenge from our own James Collins.
Ash was the provider for the second, squaring Glen Johnson's superb long ball for Darren Bent to bang in from six yards, Collins trailing in his wake. Stewart Downing came on late in the game and almost added a third after cutting in from the right and unleashing a trademark left footed shot that was just inches wide.
"Youngy" talks about playing in a hostile atmosphere and enjoying his game in a wide role, swapping flanks with Rooney on the other side.
"Benty" talks about playing as the lone striker, flanked by Wayne Rooney and "Youngy".
I like these behind-the-scenes videos with an artsy depth of field.
4-3-3
It was a comfortable performance from England – thanks largely to the cushion provided by the two early goals – using a new system which seemed to suit the players Capello had at his disposal very well.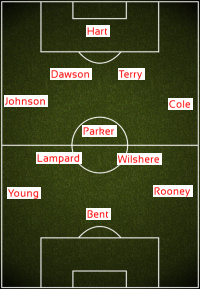 Darren Bent was the lone front man, flanked by Rooney, initially on the left, and Ash on the right to begin with. Scott Parker anchored a three man central midfield with Frank Lampard and Jack Wilshere ahead of him to pull the creative strings.
It was encouraging to see Ash once again flourish in a wider role, but I got the impression that many Villa fans on Twitter were quick to forget that he played behind Bent in the last England game – grabbing his first international goal in the process – in their rush to confirm the popular view that he's a winger and Houllier doesn't know what he's doing.
I prefer to see Ash play wide too, but we have three wingers and he did play "in the hole" under Martin O'Neill during pre-season, a policy continued by Kevin MacDonald and Gerard Houllier, and also copied by Fabio Capello. I spot a pattern.
We should probably keep in mind that Wales are ranked below Togo, Moustapha Salifou's national team, I think it's fair to say that Everton will offer stiffer opposition and we won't have the benefit of playing against a rather immobile James Collins either.
Whether he's playing with us remains to be seen, but his fitness level is clearly questionable. Richard Dunne also turned out for Ireland today in a 2-1 win over Macedonia. Ciaran Clark was on the bench, but he'll be serving the second of his two game suspension next weekend.
England play again on Tuesday in a friendly against Ghana at Wembley, Ireland play Uruguay and Wales will go to Andorra where they surely stand a chance of grabbing a win.