Written by Dan on August 10, 2011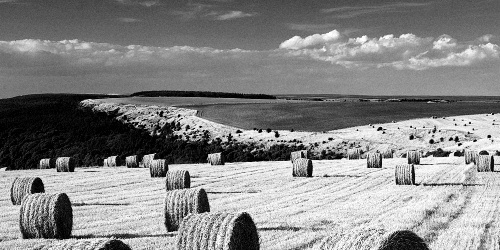 We all know that Alex McLeish has a tough task ahead of him. We all know that he's arrived with about as little goodwill as a new manager could possibly arrive with. We all know that he must win over large swathes of the Villa fanbase, and that there are significant numbers who will never accept him. We all know that a good start is vitally important. Vultures circle.
We're probably all aware – or we should be – that the fixture computer was reasonably kind to us at the front end of the Premier League programme. An away game to begin with was desirable; an away game to begin with we got. There may well be happier hunting grounds than Craven Cottage for us (we've won there twice in the last 10 seasons), but we could have had a tougher curtain raiser.
Assuming that game goes ahead of course.
Back-to-back home games against the very beatable Blackburn and Wolves will be spliced by a League Cup fixture to be determined in tomorrow's (August 11th) draw. August 20th to 27th will offer McLeish three games, then, where he can bank himself some major capital with the fans. And he's going to need it further down the road.
Assessing difficulty within the fixture calendar
Not everyone made out so well with their early fixtures when the computer did its stuff. The gulps in Swansea must have been audible in Cardiff, not that they would have received much sympathy. The Swans have away ties at Man City, Arsenal and Chelsea during their first six league fixtures, balanced with home games against Wigan, Sunderland and West Brom.
How many points do you see them entering October with after those six matches?
Looking at the relative difficulty of Swansea's opening fixture list in comparison with our own led me to think about the same thing with all the teams in the league. Do some teams have a more balanced schedule? Do we all have peaks and troughs in terms of quality of our opponents? Are some months tougher than others?
I developed a very simple system to answer those questions. In fact, it's overly simple and very much adopts an "all things being equal" approach. That's okay, I don't want a pixel perfect picture, just a quick sketch of the landscape will do.
To achieve this, I divided the 20 teams in the league into five groups of difficulty based on finishing position last season. The top four being the toughest, and worth five points, the next four being worth four points, and so on down to Wolves, who finished in 17th, and the three teams promoted from the Championship being worth a single point of difficulty.
There are a multitude of variables that could be included in a more complex model, but the only one that can't be ignored is the advantage of playing home or away. Quite arbitrarily, I added a factor of 50% difficulty to the top tier when taking them on at their own place, 40% to the next tier, then 30%, then 20%, down to just an extra 10% difficulty playing the bottom tier away from home. As I said, I'm definitely keeping it simple.
If that's as clear as mud, hopefully this table will help:





Vs. at Home

Vs. Away

Tier 1 (+50% Away)
Arsenal

5.0

7.5

Chelsea
Man City
Man Utd
Tier 2 (+40% Away)
Everton

4.0

5.6

Fulham
Liverpool
Tottenham
Tier 3 (+30% Away)
Aston Villa

3.0

3.9

Newcastle
Sunderland
West Brom
Tier 2 (+20% Away)
Blackburn

2.0

2.4

Bolton
Stoke
Wigan
Tier 1 (+10% Away)
Norwich

1.0

1.1

QPR
Swansea
Wolves
So, as an example, we play Fulham away; that's 5.6 points, Swansea play Man City away; that's a difficulty rating of 7.5 points. It's really that simple, nothing sophisticated at all.
Individual fixtures don't reveal much, we can just glance at those in the paper and get a feel quite easily, it's the bigger picture that is interesting. Here's how difficulty rating for the first six fixtures total up for all 20 teams (which takes us up to the end of September):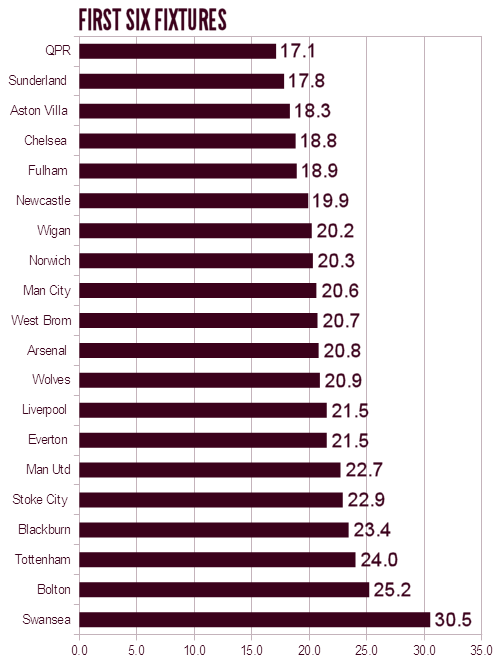 If Neil Warnock is pleased with his opening half dozen fixtures, he might glance at his final ten and see the hammer that will smash his side back down to the Championship if they haven't built themselves adequate protection. Sunderland, West Brom and Stoke will be challenging enough during the closing stages, while Swansea will probably be fighting for every point themselves. But it's Liverpool, Arsenal, Man Utd, Tottenham, Chelsea and Man City (the likely top six sides this season) that will keep him up at night. Assuming he's still in the job by that point.
Here's the average difficulty rating for each team by calendar month (you can click for full-sized version):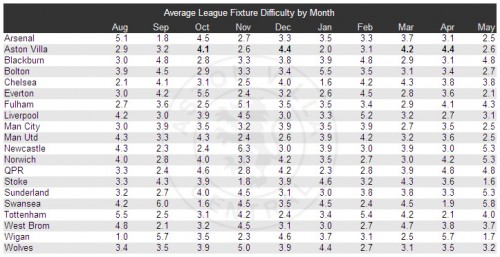 As you can see, our own most challenging months are October, December, March and April. January and February offer a chance to re-group after the difficult Christmas period and attack the table again before the spring months come. Of course, none of this takes into account any cup fixtures, which we hope will be a factor.
I suspect McLeish has picked his battles already. He's also fully aware that he has to take the cup competitions seriously, but the League Cup shouldn't provide any major fixture headaches until the quarter finals, assuming we make it that far, which would immediately proceed Man Utd's visit to Villa Park.
With our involvement in the FA Cup not coming until January, I'd hope that we can milk everything possible out of the games up to the end of November, ride out December, then take advantage of the less challenging league fixtures to concentrate on the cups.
I don't hold out any major aspirations for success this season, but I believe we're capable of finishing in the top eight and making a deep cup run or two if handed a favourable draw. That would rely on taking advantage of the early opportunities – making hay whilst the sun shines – and hoping to build up enough momentum to carry us through what will inevitably be a harsh winter.