Written by Dan on July 27, 2011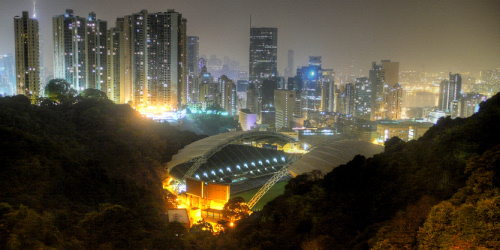 Yes, it's just pre-season. Yes, it's still early days, there's much to be done. Nevertheless, the positive signs continue. The green shoots of recovery are quite possibly poking their heads through the soil.
Darren Bent (who else?) got the only goal of the game in typically oppressive conditions in Hong Kong, but there were encouraging performances all around the pitch. Most impressive, perhaps, was the obvious communication between the players who were well organised and clearly playing for each other.
McLeish made a couple of changes from the Walsall game with Gabby coming in for the injured Ireland and Barry Bannan playing on the right instead of Marc Albrighton. Gabby and Emile Heskey swapped positions several times during the game, both players probably looking most comfortable in the central position behind the striker.

The passing and movement, at least during the early stages before the heat really took its toll, was impressive. Makoun and Petrov are developing an understanding and I have to admit that Petrov is looking closer to the player from a couple of seasons ago than last season.
The left side is clearly a weakness, we know that, but N'Zogbia is said to be joining in the next couple of days and will slot in perfectly when the team returns to England. Barry Bannan did well on the right side, cutting inside to use his left foot, Marc Albrighton, when he came on in the second half, struggled a little to find the pace of the game (slow) and won't want to see one particularly horrifying back pass back again. Neither will Ciaran Clark, who made the same error, Collins and Dunne rescuing the situation both times.
Speaking of Collins and Dunne, in fact all of the back four, there were clear improvements on last year. Collins picked up the man of the match award, all four were completely committed throughout the game. Shay Given only really had one serious save to make and it was an outstanding block to stop what a curling effort to the top corner. Otherwise, he looks confident and assertive between the pipes.
All substitutions came in the second half. Delph replaced Makoun, Delfouneso replaced Gabby and Albrighton came on for Bannan in a like-for-like triple swap. Clark came on for Petrov a little later and played in the middle, but probably didn't give as good account of himself as he could have during a brief cameo.
Chelsea are currently playing Kitchee, the Hong Kong First Division champions, and we'll take on the winner in an attempt to pick up some silverware on Saturday.
Overall, it's a good workout in trying conditions. It's more about fitness than the result, or even the performance, but there's plenty to feel happy about.
Aston Villa Starting XI: Given, Young, Collins, Dunne, Warnock, Bannan, Petrov, Makoun, Heskey, Agbonlahor, Bent. Subs: Guzan, Albrighton, Delfouneso, Delph, Clark, Beye, Lichaj, Herd, Marshall, Lowry, Gardner.
Blackburn Starting XI: Robinson, Salgado, Olsson, Samba, Givet, Emerton, Dunn, Formica, Pedersen, Nzonzi, Roberts. Subs: Bunn, Hanley, Aley, Anderson, Henley, Kean, Blackman, Nelsen, Andrews, Rochina, Hoilett.
http://www.youtube.com/watch?v=mC7t1nFfDd0