Written by Dan on February 11, 2011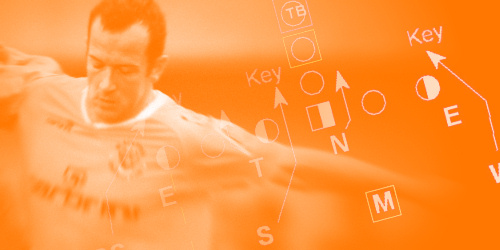 Blackpool have lost their last five games, Ian Holloway will be desperate to avoid a sixth straight defeat. He'll have half an eye over the horizon to his next game against Tottenham, perhaps hoping that Wolves might offer an opportunity for points after that. And then Chelsea will come to town.
By the time Holloway takes his men to Ewood Park, inside the final seven games of the season, he knows full well that his team could be in the midst of an atrocious run of form and looking up from the bottom reaches of the table.
Perhaps he'll be glad that it's only Aston Villa coming to Bloomfield Road tomorrow; a team that used to be famous with a manager on a sticky wicket. "They're below us" Ian cried not so long ago. Have you looked at the table recently Mr. Holloway?
Sure, it's only a point between us and Blackpool do have a game in hand, but the season is 38 games long and I'm extremely confident that when the final curtain falls we'll be comfortably above Holloway's side.
But will he change his approach? Doubtful. He's at home with a point to prove, he'll come at us in his usual all guns blazing style.
We know full well that Blackpool's key man and crown jewel is Charlie Adam, a player Barry Bannan replaced when he came off the bench for Scotland mid-week by the way.
Holloway has sung Adam's passing ability from the roof tops and he frequently plays the quarterback role I've talked about Jean II Makoun being capable of playing. An important difference is that Adam seems to play the percentage game, just look at his incomplete passes from open play in the last three games: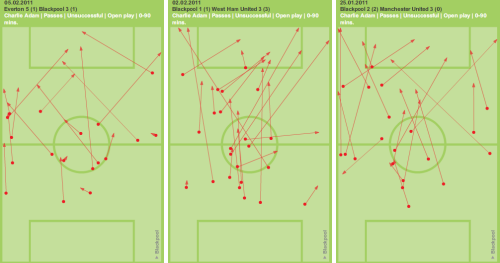 Lot's of long balls in there, no? I wouldn't go so far as to call them "Hail Marys", but Adam's definitely willing to take a risk. During those three games Adam attempted 149 passes in open play, but completed just 88; an average completion rate of 59%, a figure which can be misleading if the 41% that complete are high quality, penetrating passes.
Red lines on a chalkboard aren't necessarily indicative of a poor player, it can just easily be a reflection of team mate's failure to get on the end of fine deliveries or a strong defence – just looks at Stewart Downing's passing charts from the game against Man Utd at Villa Park.
It should go without saying, then, that if you shut down Adam, press him early, you go a long way to taking the sting out of Blackpool's attacking threat. They have a habit of scoring goals though, only drawing a blank five games this season, all of them on the road.
They break fast and in numbers, they'll often take advantage of wide players darting in to pick up loose, 2nd phase ball. Our back four, particularly the full backs, will need to remain extremely aware of the space they leave behind them.
At the other end, Blackpool don't keep many clean sheets either and, again, not once at home this season. The way to beat Blackpool is to play them at their own game and just go at them in a positive, attacking manner while being mindful of space left at the back.
What I'm looking forward to is hearing Holloway concede in the post-match interviews that if Jean II Makoun is only worth 5 or 6 million, then Charlie Adam can be worth no more than, say, 3 or 4 million.
Well, that and three points which are definitely there to be taken. A win would lift us as high as 11th place and open up a confidence boosting gap to the relegation zone, quite probably allowing us to look forward and upward for the rest of the season.
Pre-kick off, I'm looking forward to seeing what Gerard Houllier thinks about new boy Michael Bradley. Is he going to throw him in at the deep end alongside Makoun in an effort to dominate the middle of the park? It might be a little early for Bradley, he wasn't getting much playing time in Germany before making the switch, but he also wasn't involved in international action during the week either.
Saturday Fixtures:
12:45 – Man Utd v Man City
15:00 – Arsenal v Wolverhampton
15:00 – Birmingham v Stoke
15:00 – Blackburn v Newcastle
15:00 – Blackpool v Aston Villa
15:00 – Liverpool v Wigan
15:00 – West Brom v West Ham
17:30 – Sunderland v Tottenham