Written by Dan on August 6, 2011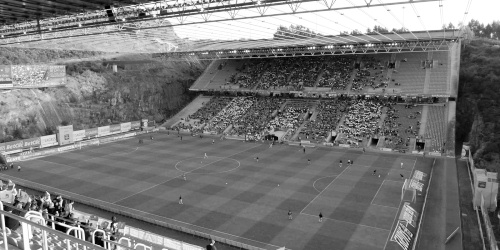 Charles N'Zogbia matched Darren Bent's achievement of scoring on his debut in tonight's final pre-season game in Braga; a 1-1 draw that would probably be given to the home side on points by the judges. If we did such a thing.
Vagner Love's stunt double, Alan, opened the scoring for the home side with a wicked effort from 25 yards that nestled the top corner and left Shay Given no chance. Questions will be asked about the space he was allowed to exploit as he skipped through what should have been our central midfield.
N'Zogbia cancelled Alan's effort out after intelligently following up Young's cross to Darren Bent, pouncing as the ball spilled loose and stabbing it to the far post, possibly catching a deflection on the way.
Most fans would be interested in N'Zogbia's debut performance as much as anything else today, and the signs were extremely positive. He played a little more than an hour on the right side, initiated several of his famed dribbles, tracked back very well, linked up with team mates nicely, scored a goal. Can't ask for much more.
McLeish opted for a slightly surprising line-up with James Collins missing out with a back injury (hopefully cleared up for Fulham), and Fabian Delph rested, Ciaran Clark came into the back line, with Richard Dunne sliding over to the right.
Heskey played on the left of what was a 4-4-2 with Gabby and Bent ahead of what must be our first choice central midfield pairing of Petrov and Makoun.

I would have been encouraged to see a little more cohesion, a little more thrust in the final third, but trying to keep the "pre-season factor" in mind, it wasn't too bad, Braga are a good side. I'd feel more comfortable if we had another game or two to work on the sharpness, but that's all we have now.
Marc Albrighton replaced N'Zogbia in the 63rd minute. It would have been nice to see the two of them on the pitch at the same time; was McLeish making the most of the chance to look at alternatives as cover during the coming season, or was today a sign of his preferred line up? I don't know.
Emile Heskey has done well on the left during pre-season, he's worked very hard, but I can already hear the "Heskey isn't a winger" mantra being warmed up now.
Stephen Ireland came on in place of Bent with 17 minutes left, shifting the system back to a 4-2-3-1; Gabby up top, Heskey and Albrighton flanking Ireland. Some positive signs, some not so. The jury remains out.
Barry Bannan got seven minutes in place of Petrov, handing the armband to Dunne on his way off pitch. A central trio of Ireland, Bannan and Makoun is about as lightweight as it gets, but potentially very exciting against weaker opponents gifting us lots of possession.
I'm not sure when we'll get such a luxury, but there are no more rehearsals, next time it's the real thing. Or it will be once we get the brilliantly timed international break out of the way.
Overall; some positives, definitely. Makoun looks settled and his quality in the centre shows, one long through ball to Bent in particular was simply brilliant. N'Zogbia did as well as we could have hoped, possibly more so, and he's going to bring a new attacking dimension without any doubts.
Besides the goal, Braga also struck the woodwork, but were mostly restricted to shots from distance and Given had his goal well covered for the most part. The defensive unit, then, appear to be much stronger and better organised than last season, although they're sitting deeper.
My feeling is that we'll concede less goals, probably keeping more clean sheets this season, but might struggle for goals until the team really gels. Unfortunately, McLeish is operating on borrowed time and must make hay while the sun shines on the early fixtures.
We'll explore that theme in a little more detail before the season kicks off, but that's now it for pre-season.
Aston Villa Starting XI: Given, Young, Dunne, Clark, Warnock, N'Zogbia, Petrov, Makoun, Heskey, Agbonlahor, Bent. Subs: Guzan, Marshall, Ireland, Bannan, Albrighton, Beye, Delfouneso, Hogg, Gardner, Herd, Lichaj.