Written by Dan on September 10, 2011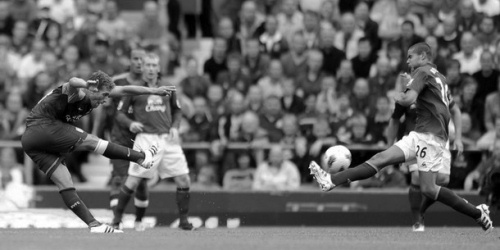 There's no getting away from it, that was a poor performance against an Everton side unable (or unwilling) to field a single recognised striker. We might owe a somewhat sheepish nod in the referee's direction, but Petrov and Gabby somehow managed to cancel out Leon Osman's opener and Leighton Baines' second half penalty to grab a hugely valuable point we barely deserved.
Any hope I harboured of Everton being bogged down by their off-field issues were killed off immediately as the home side took early control and could easily have been awarded a penalty inside the first minute after a slightly clumsy challenge by Richard Dunne.
That punishment would have been harsh, but after another, stronger, call for a penalty against Barry Bannan was also turned away, it was inevitable that Fabian Delph's leap into Phil Jagielka would lead to a spot kick.
Alex McLeish made only one change to the starting eleven by bringing in Alan Hutton in place of Chris Herd, but switched Charles N'Zogbia to the middle with Emile Heskey taking to the right flank. It didn't last long, Heskey was forced off with an injury after 17 minutes, Bannan came on in his place, forcing a system change.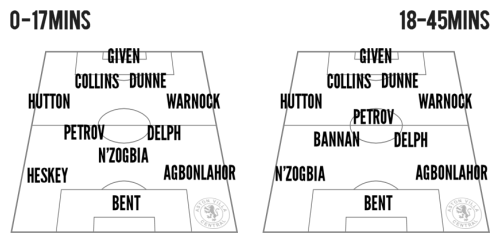 Bannan showed his crisp passing abilities straight away, but Everton were nevertheless able to translate a passage of calm possession into an easy goal scoring chance in the 19th minute. Osman found himself with the ball in acres of space in front of Shay Given and merely had to pass it into the net. He did just that.
Villa showed glimpses of quality through the remainder of the half, but there was no final ball, little penetration, a complete lack of cohesion, and Everton really should have been able to double their lead before the break.
Second half
The second half might have begun in a scrappy fashion, but there was at least a little more fight, a little more quality in Villa's play. However, it soon became painfully evident that Darren Bent clearly is not fit and probably shouldn't be playing.
The equaliser, then, came from practically nothing. A trademark Petrov 30 yarder with a novel new twist: it was on target and beat the keeper! It was actually a brilliant goal, but let's face it, he tries it every match, one had to go in eventually. This one was about as timely as they come though.
At 1-1, I felt that Everton's heads might drop, they might feel the world is against them an cave in. Bent struck the post from point blank, surely three points could be snatched here?
But then disaster. We were back on terms for no more than six minutes when Delph tried desperately to head away danger in the box, but succeeded only in leaping all over Jagielka. Michael Oliver didn't hesitate and pointed to the spot. A bit of a weak call I thought, but over the course of three penalty shouts, no more than Everton deserved.
Leighton Baines made no mistake and coolly slotted the penalty past Given to make it 2-1 and shatter any realistic hopes of grabbing an undeserved win.
Marc Albrighton replaced N'Zogbia with 17 minutes remaining and took over his place on the left at the time.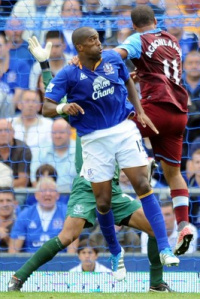 Ten minutes later, he was picking up the ball from Gabby in the left channel before shaping a testing cross to the far post where both Gabby and Bent were lurking. Gabby rose determinedly and nodded past Howard's reach.
2-2. Gabby whipped his shirt of in celebration and picked up the obligatory booking.
Could we still grab three points late on? Well, no. Everton cranked up the pressure and there were a number of desperate saves, blocks and clearances, but we clung on and will be extremely grateful to come away with a point. It could have been an awful lot worse.
Overall, few positives beyond the result, although credit must be shown for the resilience at least. A feature of last season was our ability to fall to pieces as soon as things didn't go our way. That didn't happen today and that's a testament to the improved spirit in the camp.
Regardless of how dispirited I might have hoped Everton to be, getting a point at Goodison isn't a bad result at all. In the end, I'm probably guilty of wishing Everton to be worse than they really are.
However, there are concerns. Obviously. The overall performance had a dank quality to it. It was limp, nothing inspiring whatsoever. Everton should have been home free by half time, that they weren't was more down to their own failings than our successes.
The biggest disappointment today, for me, was the quality of passing. There were far too many errant passes, most of them entirely unforced. None of our players who played the majority of the game achieved a pass completion rate above 79%, with most in the mid-60s and below.
That said, it was the first game back from an international break, and an away game at a traditionally awkward opponent; a point is not to be sniffed at. We remain unbeaten so far this season, which is more than can said of, say, Liverpool who lost at Stoke today.
Next up; Newcastle at Villa Park. That's always a good game.