Written by Dan on September 9, 2010
If you've been on the Aston Villa website since Gérard Houllier was confirmed as Martin O'Neill's replacement you may have noticed that the marketing team have wasted no time in leaping on this new opportunity. If not, you may have received an email. Take the image below which shows the two frames from a 300×250 ad block appearing all over the site.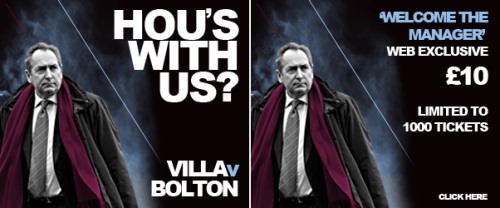 A good offer, no doubt, click here if you want to get in on it, but am I alone in finding the image of the new gaffer a little, oh I don't know… creepy?
Perhaps it's the dark background, maybe it's the eerie mist behind him, it could possibly be the desaturated image of Houllier himself resplendent as he is in his Liverpool red scarf photoshopped into an Aston Villa claret scarf, but it's probably a combination of all of these elements.
As it turns out, if I'm not alone in seeing something of the zombie about our new manager, there's a good reason why. I've managed to get a sneak peak at some of the creative art on the drawing boards of the AVFC marketing department and I can exclusively reveal that phase two of the campaign is entitled "Zombie Houllier Autumn 2010" and here's a quick preview:-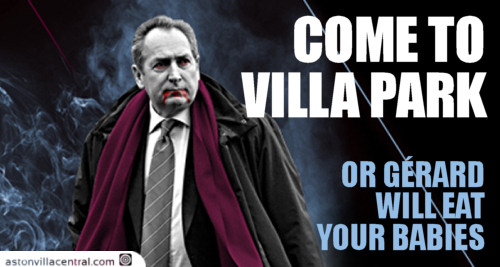 Well, that really is convincing, isn't it? Please, think of the children, please get down to Villa Park!
I know, this probably isn't the level of respect the General had in mind, but I'm just pleased we're past the endless transfer and manager uncertainty and can be a little more jovial and optimistic about the future. I think the majority of the fan base are behind Houllier, myself included, and it's up to him to convince the doubters through results.
Or just biting their heads off. Either way.