Written by Dan on November 25, 2011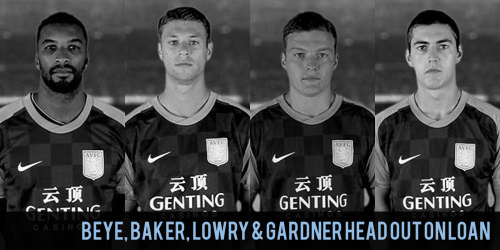 It's been the week of loans in B6 with no less than four players heading out to get some competitive football elsewhere.
Firstly, Habib Beye went to Doncaster, initially until January, but hopefully a deal to take him through to the end of the season (and his Villa contract) won't be out of the question. Assuming he's not a disaster.
Then Nathan Baker, closely followed by Shane Lowry, made a temporary switch to Milwall; Baker for a month, Lowry just into the new year. Three loans, all good stuff I'm sure you'll agree. But then there was a fourth; man of the moment, Gary Gardner, has joined Coventry on loan until January 3rd.
This news was about as welcome as a piranha in a bidet to a lot of fans who were hopeful of, even demanding in many cases, his immediate inclusion in the first team.
Another stick to beat the manager with, then. It's reminiscent of Barry Bannan joining Leeds towards the end of last season, just as many fans were calling for him to be in the first team, seemingly to be the saviour of our season.
Let's hope Gardner gets more out of his spell at Coventry than Bannan did at Leeds.
Development Strategy
The benefits of going out on loan are obvious, but there's no rule that says a player has to do so to fulfill his potential. It really comes down to circumstance and, hopefully, a planned strategy.
A player who has spoken highly of Gardner, having played together through the various England youth ranks, is Jack Wilshere. They happen to be the same age (Wilshere is six months older) and play in central midfield, but Wilshere is playing Champions League and is a full international now.
Clearly age isn't a barrier; if you're good enough you're most definitely old enough. However, Wilshere arguably had fewer established first teamers ahead of him as he competed for a place in the team and Arsenal are battling on more fronts so offer greater opportunity to blend in the youngsters. And developing youngsters is something of a forte of Arsenal under Arsene Wenger, after all.
Whether it was through design (i.e. planning and strategy) or happenstance (i.e. there was no room at the inn), I don't know, but he didn't get to establish himself in the first team properly without going out on loan to Bolton first.
Stevie G
Gardner has been likened to Steven Gerrard in style of play and, although it's going back a bit now, he was a player who didn't go out on loan and was brought into the first team by Gerard Houllier as an 18 year old instead.
However, during his first season, 1998/99, he only started four Premiership games, and played the full 90 minutes just once; against Derby County in March '99. By the end of his first senior season, Gerrard had played a total of 365 minutes of league football with 89% of those earned during the second half of the season in 1999.
To put that in some perspective, Bannan played 638 minutes last season, although a lot of his time on the pitch came courtesy of injuries to Stiliyan Petrov and Nigel Reo-Coker. That's happenstance.
World Cup
Gardner was withdrawn from England's U20 World Cup squad and travelled to Hong Kong for pre-season with the first team instead. Although it wasn't likely that he would be involved in the first team straight away, it was clear he was in the plans and needed to be integrated "just in case".
His star has risen dramatically recently with goal scoring performances in the NextGen Series and with England U21s, but with limited reserve fixtures remaining in 2011 and the NextGen series on hiatus until the quarter finals next year, there isn't much scope outside of the first team for playing time.
I suppose the question, then, was whether to bring him straight into the first team now, disposing someone like Stephen Ireland, Fabian Delph or Chris Herd of their place, or leave things as they are and get him some playing time elsewhere.
It might have been very popular with the fans to bring him in now, and McLeish could certainly do with banking some goodwill, but that doesn't necessarily make it the smartest thing to do from a squad management perspective with the bulk of the season still ahead of us.
To me, it's a no-brainer. The risk of ruining the young player and/or squad harmony by bringing him in now is greater than the benefit he's likely to bring in the next month or so. There really is no rush.
Far better to get him some more experience and bring him in as an improved player later on as the season takes its toll on the legs of the current team.
In the mean time, trust me, I don't get any more pleasure from watching Emile Heksey lumbering around midfield than anyone else, but if McLeish is playing the big man in place of N'Zogbia, Albrighton or Ireland now, I don't see him suddenly playing Gardner in his place.
So, with that in mind, what's the point of him sitting on the bench watching Premiership games, perhaps grabbing the odd minute here and there, when he could be actually playing in Championship?