Written by Dan on February 2, 2011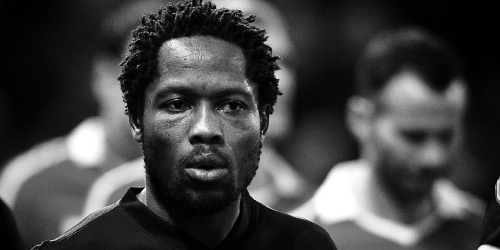 You may or may not have noticed that I haven't been following Premier League games up with Statshacks for a little while. There are numerous reasons for that which I won't bore you with, but I have still been glancing at the numbers and I have to bring Jean Makoun's passing statistics from Old Trafford last night to your attention.
I don't always single individual players out and I don't keep records, but I do look them over and it's rare to see any one Aston Villa player connect more than 50 passes in a game. Some players will achieve high 40's here and there, occasionally mid-50's, I think James Milner was the highest I ever saw with a game in the low 60's one time.
Have a look at Jean Makoun's passing map on the right. That's 85 complete passes out of 94 attempted, a 90% completion rate. During the 75 minutes Stiliyan Petrov was on the pitch, Makoun completed 73 passes to Stan's 42.
I should give Petrov some credit, he still managed to complete the same number of passes as Utd's player with the highest number; Nani also completed 42 passes during the game, although his passes, one in particular, were a lot more significant in Utd's game.
Makoun achieved these numbers mostly through his speed of passing, frequently moving the ball on with his first touch, but rarely holding the ball for more than a second or two before passing it on to a team mate. But almost always a useful pass and often a clever pass to someone in space.
His movement off the ball allowed him to receive the ball in space, his awareness of what's going on around him and general reading of the game facilitated the quick one and two touch game. When the players around him are closer to his wavelength, special things are going to happen.
On this occasion, arguably because Wayne Rooney finally found his shooting boots, we didn't come away from Old Trafford with anything, but it's not insignificant that Villa held 56% of the possession and a 57% share of the completed passes (CPS%) in the game.
As we always remind ourselves here at AVC, there is only one statistic that truly matters, but to go to Old Trafford and hold the majority share of a couple key metrics has to be encouraging, whatever the result. With a little more composure and potency in the final third of the pitch, this side will be deadly.
With Makoun behind the attacking players, pulling the strings, I can't imagine it'll be too much longer before it all starts clicking into place. If he strikes up a strong partnership with Fabian Delph and/or Michael Bradley… well, I'll leave it there before I get carried away.