Written by Guest on March 2, 2011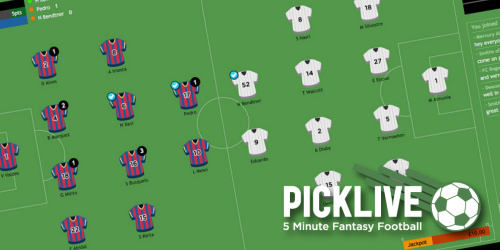 There is a list of things that need improving here at Aston Villa Central and preview posts sit high up on that list. I may not have got to it yet, but today I'm fortunate, my friends at Picklive.com have helped me out. Not only have they provided the following preview, but they're also offering Aston Villa Central readers the chance to try out the game for free.
---
For those of you thought that fantasy football was something that you entered at the start of the season and then go bored of by Christmas – think again. Picklive is traditional fantasy football on acid, games last just five minutes and you play in real-time during televised matches.
To get started simply visit Picklive during tonight's game and sign-up for a free trial. By picking the three players who you think will contribute the most to the action within a five minute period, you could be winning cash prizes throughout tonight's match.
Maybe you are enough of a footballing aficionado to strike out on your own , but if not then here is some friendly insiders advice from Picklive:
Top City Pick: Alexander Kolorov
The powerful Serbian remains a bit of an enigma to many, and has proved an incredibly frustrating player for City fans. The advantage he offers to Picklive players is his willingness to shoot from just about anywhere. The chances are if he gets the ball in the Villa half tonight, then he will let fly. With 5 points available for missing the target, and 8 available for hitting it, his powerful and accurate shooting makes him a sensible pick.
Top Villa Pick: Stewart Downing
The England midfielder has been instrumental in Villa's recent arrival, and consistently influences the game more than any other in their ranks. The advantage that he bears over fellow wingers is his tendency to drift inside and partake in the play over there. He pulls the strings for Villa all over the park, racking up completed the passes, delivering crosses and getting shots away with that lethal left foot of his.
One to Avoid: Emile Heskey
Heskey can never be criticised for his work ethic and value to the team. However his physical style often sees him unfairly penalised by referees. There is nothing more frustrating in a Picklive game than being in line for a cash prize, and having it snatched away by a poor refereeing decision. Don't run that gauntlet by picking Heskey, however tempting it may be.
Free trial at Picklive for Aston Villa Central readers
[This was a guest post by Picklive]