Written by Dan on February 7, 2011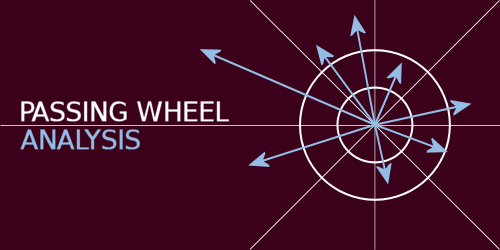 Jean Makoun picked up the Man of the Match award against Fulham and has rightly won the plaudits from most quarters. But not everyone is impressed.
It's true that his tackling isn't the greatest just yet, but his passing is exemplary; he was the leading passer on the pitch against bother Man Utd and Fulham.
But the devil is always in the detail, passing numbers alone can distort the true picture. For instance, lots and lots of backwards and sideways passes can't be held as valuable as "key" passes made forwards, can they?
I decided to analyse the direction of Makoun's passing against Fulham in comparison with the other three central midfielders that day; Stiliyan Petrov, Danny Murphy and Steve Sidwell.
I've used the Opta provided passing data from The Guardian's Chalkboards and replotted every open play pass & cross onto a new "Passing Wheel" graphic; all passes originating from the same central point.
You can click on the graphics below to enlargen and then use the right and left arrows in the modal window to navigate through each player.
What should be quite clear is that Makoun certainly did not rack up high passing numbers simply by making lots of short sideways and backwards passes, there is an impressive range of passes in his wheel.
It should be noted that Makoun had the longest completed forward pass; a superbly played ball into space on the right for Stewart Downing. Exactly the type of ball I talked about him playing when I described his ability to play a quarterback style role, distributing the ball to the corners from a deep position.
Sector analysis
The Passing Wheel graphics are split into eight sectors, but I've taken the completed passes and analysed where they fell based on four key sectors since each individual sector has a mirror image, as shown in the table below.
As you can see for youself, Makoun delivered more passes into sector 1 than any other player and far more passes into sectors 1 and 2 combined than the other three. (Makoun 42, Petrov 24, Murphy 35, Sidwell 20).
He made a few more backward passes (19) than Murphy (15) and Sidwell (17), but far less than Petrov (25). Quite how anyone could think that Petrov had a better game than Makoun is quite beyond me, but there are a few out there apparently.
Settling In
Makoun's played in three games, although he didn't manage the full 90 on his debut after picking up a knock fairly early on. For me, he was the best player on the pitch in the last two games and he's settled in remarkably well.
There are signs that the players around him aren't always on the same page, they're not used to playing with someone who is able to play so many first time passes. But think about how this side will play when they are all on the same wavelength, Makoun in the centre pulling the creative strings.