Written by Dan on August 1, 2009


First of all, it's pre-season and Porto didn't put their strongest eleven out from the start so I don't want to get carried away here, but Aston Villa just beat the 2004 European Champions to set up a Peace Cup final against Juventus. Who saw that coming after the Malaga game?
In all honesty I didn't enjoy the Malaga game very much, there were very little positives to be extracted. I didn't enjoy the first 30 minutes or so of the Atlante game either. But from that point onwards we've been treated to glimpses of the Villa we can expect to see this season. Coming back from behind against Atlante and leading the way in this game revealed that the character and spirit that won games on it's own last season is still there. Just as important, we have a handful of tenacious youngsters eager to join in and, in fact, their enthusiasm is infectious enough to spur the senior players on.
Martin O'Neill was serving a touchline ban after his sending off during the Atlante match. With Villa scoring 5 goals under John Robertson's guidance and none with MON on the sidelines he might be tempted to watch the final from the hotel!
With Petrov back in England beginning his recovery from a dislocated shoulder Villa lined up pretty much as expected; Albrighton deserved a start on the right and Guzan retained his place in goal. Reo-Coker wore the captain's armband and Sidwell would get another chance in the middle charged with getting forward.
The first 10 minutes went by as the first 10 minutes generally do; not a lot of action, each side just probing for an opening, testing each other. It did appear that Porto would favour attacking down the left against our rookie pairing of Albrighton and Lichaj though. Lichaj is good, make no mistake, but he's still over committing himself and when he gets beaten it leave acres of space.
Ashley Young sent the first warning shot across Porto's bows on 13 minutes. If Porto were relieved, it was short lived. Within a couple of minutes, a long ball hit down the right fell neatly onto John Carew's head and he nodded back to the charging Albrighton. The right winger knocked it back first time to Carew and his touch to let the ball continue it's path with just enough pace taken off for Albrighton to chase was sublime.
Marc charged to the edge of the box and hit a hard, low drive to the near post where Emile Heskey had made an intelligent run. Heskey's touch was perfection. The ball didn't need much on it, but it would have been easier to get wrong and send it into the back of the empty stand. Emile managed to deftly flick the ball into the back of the net leaving the Porto keeper rooted to the spot. He didn't even see it. 1-0.
If you were expecting Villa to rest on their laurels at this point, you'd be wrong. The Villans continued to stamp their authority on the game, although that was soon without Curtis Davies. The big defender initially donned some kind of shoulder strapping on the sidelines, but it was decided not to risk him and Ciaran Clark was sent on to partner Carlos Cuellar for the rest of the game. Count them, Villa now had three youngsters on the pitch in key positions and you'd never have known.
Around 35 minutes John Carew headed just wide from Ashley Young's cross. Two minutes later Sidwell found the ball under his feet from a corner and managed to maneuver himself into position to fire into the roof of the net inside six yards. 2-0. Aston Villa saw out the half without too much danger.
Porto made a couple of changes for the second half, most notably their Brazilian striker, Hulk, came on. He lived up to his name and appeared to be a stocky, irritable fellow with a powerful shot. He led Porto in their attack as soon as the referee restarted the game. It may be a coincidence, but the tone of the game also changed. Porto's tackles seemed to become that little bit harder, little bit later. They seemed to take exception to every challenge made on them and make the most out of every contact.
Hulk was the instigator, first starting an argument with Steve Sidwell, later with Albrighton and by all accounts he also started a fight with himself in the changing rooms after the game. Hulk lost.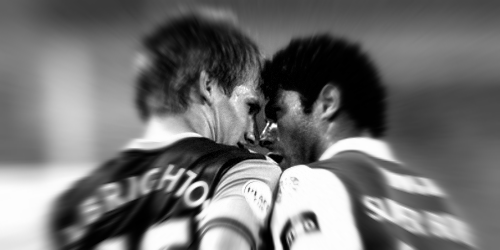 John Carew was again withdrawn around the hour mark, Shane Lowry his replacement. Again, Lowry went to left back, Shorey pushed up to the left wing and Ash played in a forward roll with Heskey.
Before the 70th minute, the growing ugly element of the game came to a head when Ash was fed a ball on the edge of the box in a world of space, largely because a Porto defender had gone down before the ball was played in. Up to this point, Porto seemed happy to play on. Ash decided to take a shot instead of putting the ball out and all hell broke loose. The Porto side seemed incensed at his apparent lack of sportsmanship.
Heskey was first on the scene and jumped in to split up the ensuing scrum. He was soon joined by Sidwell, Reo-Coker and Cuellar. Even Brad Guzan joined in. The referee, who had pretty much already lost control of the game, might as well have not been there. Useless. Somewhere in the fracas something was said and Heskey lashed out with both hands on another player's face. Of course the player went down like a sack of spuds, but Heskey was already walking before he hit the ground. I don't know what was said, but I've never seen Emile Heskey look so mad.
So Villa down to 10 men, 20 minutes or so to hold on to a two goal cushion. Porto stepped up the ante, no doubt, but Brad Guzan was equal and made save after save. Probably his best all-round performance since joining Villa.
Chris Herd came on for Albrighton on the right and Andreas Weimann replaced Ashley Young with about 15 minutes to go. Herd lasted 5 minutes before picking up a yellow card such was the nature of the game at this point.
Still Porto pressed and probed. Reo-Coker was everywhere, breaking up everything he could. Behind him Cuellar and Clark looked like they had been playing together for years. Bannan came on for Shorey with 5 minutes to go.
Villa held out all the way until the 90th minute when a tired Reo-Coker made a slightly ill-timed tackle on Hulk just inside the box to give away a penalty. Hulk put it right down the middle, Guzan guessed to his left. 2-1.
It meant for a tense 4 minutes of injury time, but Villa held their nerve. Porto huffed and puffed, but didn't really look like scoring. Aston Villa deservedly take their place in the Peace Cup final on Sunday.
Again, i don't want to make too much of this. Porto played ugly, especially in the second half, which might betray their desire to win, but I'm not convinced they put their strongest personnel out tonight. Doesn't matter, Villa played well and winning any game is a good habit to adopt.
It's hard to pick a man of the match out, there were performances all around the pitch. Guzan was immense at the back. Cuellar is showing why we bought him. Shorey's settled in now. The youngsters have already been singled out, but Clark, Lichaj and especially Albrighton all performed. Albrighton in particular as been a revelation during this tournament. Reo-Coker ran himself ragged and was unfortunate to give away a penalty at the end. Sidwell also gave one of his better performances.
Carew was his usual man mountain self, his touch to send Albrighton on his way to set up the first goal is worth another mention. Heskey played well, got on the score sheet and then showed some real fire in his belly and was sent off. Actually, it's also worth considering how the team rallied around Ashley Young, another example of the spirit in the camp. Ashley himself had another good game, but he's set the bar so high for himself that I believe there's plenty more to come.
So it's Juventus in the final on Sunday in Seville and a nice opportunity to lift some silverware before the season commences. It might only be the Peace Cup, but if it were somehow an omen for the coming season, I'd take it.