Written by Dan on November 17, 2010
I've taken my sweet time with this one on purpose. I generally have a pretty good idea what the headline numbers look like by the final whistle and I know the more technical statistics almost immediately after the game has finished these days. If taken in isolation, these stats wouldn't make encouraging reading, but that only serves to prove why we should take time look at these things as a whole and recognise that nothing can be "proven" by pointing at any single metric.
For example, if we just look at the passing numbers briefly – a favourite for some people to focus on to prove an assertion that "the football isn't improving" or some such guff – you'll find that we completed the lowest number of passes since the 139 during the 1-0 win over Everton at the end of August – 156.
Before the Everton game, you'd have to go all the way back to the 2-0 loss to Wigan at Villa Park on the opening day of the 2009/10 season to find less completed passes – 155 that day.
I had a look at all the games in the Premier League over the weekend and only Stoke completed less passes – 136 – but Villa had the lowest share of all the completed passes in a match – 32% (Stoke had 36% share of the completed passes during their 2-0 win over Liverpool).
Sunderland beat Chelsea 3-0 at Stamford Bridge by completing just 211 passes to Chelsea's 346; a 38% share of the good passes and 42% of total possession of the ball.
Based on this sample, less is definitely more. Or might it be the exception that proves the rule?
The point of this narrative isn't to pour scorn on our performance at the weekend, I'm as thrilled as anyone, or, indeed, to cast doubt on the value of thee statistics I collate after each league match. The point is to allow this to serve as a timely reminder that football statistics must be viewed as part of a larger picture and beware of anyone who tries to force feed you cherry picked "facts"; they probably have an agenda.
Stewart Downing misses out on call up again
I singled Downing out after the game, his delivery alone was worthy of praise, but considering that he remains our leading scorer and may have added to his tally in this one, he should have been a good shout for Capello's latest squad. Not this time.
Here's what struck me about Downing's game against Utd:-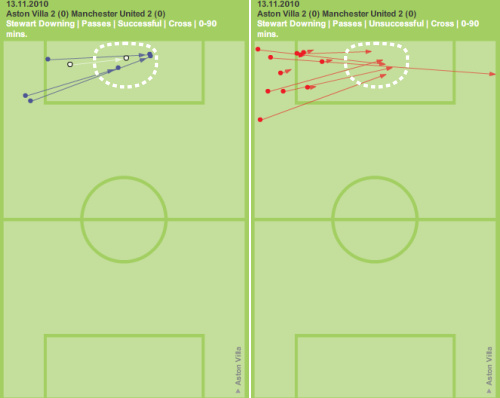 That's nine quality deliveries into the danger area around the penalty spot; four connected with a team mate; one ended up in the back of the net. Albrighton probably should have hit the target with his header and would certainly have scored if he had, James Collins rattled the crossbar with a thumping header.
Easy to say I know, but with just a little more composure, we could have been four goals to the good and Downing would have been the provider of three. I wonder whether that would have been enough to force his way into Capello's thoughts?
It was noticeable that Downing and Albrighton stuck to their natural flanks throughout this game and it's a pity that Downing couldn't have been cutting in from the right to use his left foot on one or two of his four shots. Two were blocked, two were off target (the last one right after Macheda got one back for Utd and would have been a superb response), all with his right foot just inside the left hand side of the box.
Hopefully this isn't a change in policy and the wingers will be allowed to continue to spend periods of games on the "wrong side" in future as it provides a useful change in strategy that keeps defences on their toes.
For once though, this lack of wing swapping has provided an accurate average position map and reveals a pleasing shape and balance in the team. I've also experimented with a combined heat map below since we get distinct patches of red and blue and very little purple.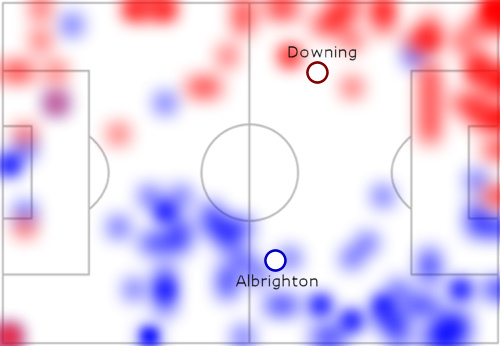 Again, I've had a doubt or two about the possession figures here, but after double-checking around sources I trust, I believe it to be accurate. I've been using ESPN for several years for this and they've rarely let me down. The fact of the matter is that despite how it might have felt, and it may have swung late in the game, Utd had 60% of the possession and a 68% share of the game's completed passes.
Nevertheless, the average position maps reveal that we had a territorial advantage. We matched Utd for quantity of chances, but beat them on quality.
Once again, this serves as a reminder that you can pass the ball around in pretty patterns in your own half all day long, but until you have the ability to get into the final third and create quality chances, you won't win many games.
2
Aston Villa
November 13th 2010
Man Utd
2
40%
Possession %
60%
17
Shots
16
5
On Target
4
9
Corners
7
0
Offsides
6
A Young (Pen) 72′ Albrighton 76′
Scorers
Macheda 81′, Vidic 85′
Bannan, L Young, A Young
Booked
Nani, Hernandez, Brown, Vidic
Sent Off
156
Good Passes
333
32%
CPS %
68%
74
Bad Passes
80
68%
Completion %
81%
16
Interceptions
19
34
Tackles Won
33
36
Tackles Lost
26
49%
Success %
56%
7
Blocks
4
15
Free Kicks
11

Aston Villa

1

Brad Friedel

29

James Collins

5

Richard Dunne

2

Luke Young

3

Stephen Warnock

28

Jonathan Hogg (Off 90)

25

Barry Bannan

12

Marc Albrighton (off 88)

6

Stewart Downing

7

Ashley Young

11

Gabriel Agbonlahor (Off 78)

Subs

22

Brad Guzan

14

Nathan Delfouneso (On 78)

27

Isaiah Osbourne

30

Eric Lichaj (On 88)

31

Chris Herd (On 90)

35

Daniel Johnson

34

Shane Lowry

Man Utd

1

Edwin van der Sar

5

Rio Ferdinand

15

Nemanja Vidic

3

Patrice Evra

6

Wes Brown

16

Michael Carrick

24

Darren Fletcher

17

Nani

13

Park Ji-Sung (Off 86)

14

Javier Hernández (Off 73)

9

Dimitar Berbatov (Off 73)

Subs

40

Ben Amos

12

Chris Smalling (On 86)

20

Fabio

22

John O'Shea

26

Gabriel Obertan (On 73)

27

Federico Macheda (On 73)

28

Darron Gibson

Average Position Maps
You can find Statshacks from other games here.
[Original data and graphics courtesy of ESPN and The Guardian]