Written by Dan on August 17, 2011
When James Milner re-joined Villa from Newcastle our side was so conditioned to channel the ball down the left in search of Ashley Young that Milner struggled to get involved and spent far too much time as a spectator. That soon began to change, bit by bit, and it wasn't long before we were finally achieving the balance we'd missed for so long.
I was reminded of this while watching the 0-0 opening day draw at Craven Cottage. This time is was another former Newcastle wide man, new boy Charles N'Zogbia, who cut an isolated figure on the far side of the pitch during the opening 20 or 30 minutes. He was able to make an impact towards the end of the half and looked lively with two deliveries in particular that deserved more from their recipients.
I wasn't surprised to find that the breakdown of our attacks between the left, middle and right sections of the pitch looked like this: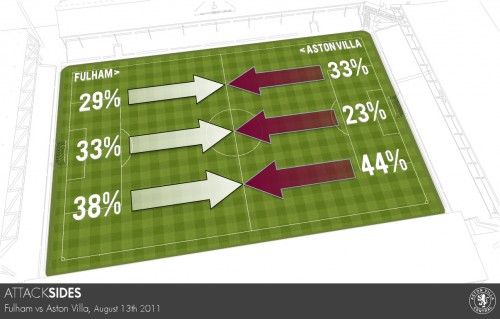 Fulham favoured the same side (their right) then, but when they did switch play to the other side they found space to exploit. Riise's 10th minute blast over the bar being a prime example.
Being lopsided isn't a problem in itself, or it doesn't have to be; we've already covered the fact that there was a time where we were very left-sided as Ashley Young was our most potent attacking force. However, on this occasion, we lacked any real creativity in the left channel and were effectively sending the ball down a cul-de-sac.
Formation
Alex McLeish essentially stuck with the same 4-4-1-1 system he used in the final warm-up game in Braga, with the exception of Fabian Delph replacing Jean II Makoun, providing that little extra bite in the middle, and Emile Heskey playing behind Darren Bent with Gabby Agbonlahor taking to the wing instead of the other way around.
Personally, I think it worked better in Portugal with Heskey out wide and Gabby exploring space between the front and middle lines. The two players did swap roles once or twice during the pre-season game, but pretty much stuck to their assigned positions at Craven Cottage.

Inverted wingers
Not everyone is a fan of employing wingers on the "wrong side". I am, but there are a couple of prerequisites to make it work properly. The main benefit, of course, is to put the winger up against a full back with his own weaker foot on the inside and, once he has the better of the defender, it allows the winger to shoot or cross an inswinger with his stronger foot.
If the attacking full backs can get forward to provide an overlap, the defenders will be torn between covering a more traditional threat down the outside and shutting down passage into the middle. But without that support from the attacking full backs and/or a credible outside foot on the winger, play can be funnelled into the middle where it all becomes a bit congested.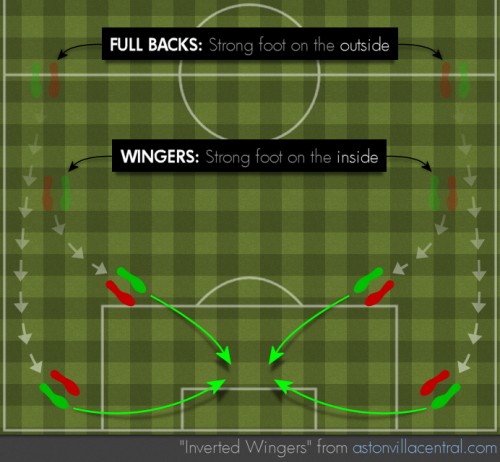 Gabby did a smart thing within the first few minutes; he delivered a left-footed cross that was good enough to give Aaron Hughes something to think about. It might not have been a brilliant centre, but it got into the box and needed to be dealt with, proving that simply showing him outside wouldn't be enough to shut him down.
Unfortunately, as Gabby's passing chart shows below, between Hughes and Phillipe Senderos, Fulham were able to snuff out the threat in the left channel forcing Gabby to pass the ball backwards. I've shown just the completed passes in open play below; there were a few failed crosses excluded to keep the focus on the passes send the ball back where it came from.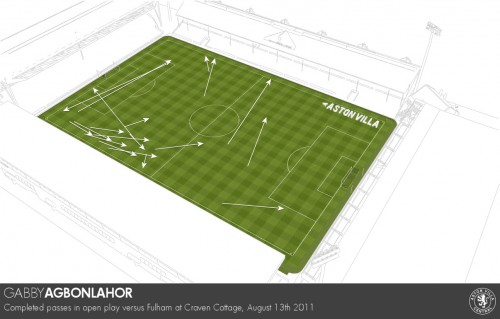 Now, perhaps this graphic could be interpreted as evidence of a wide man hitting the roadblock a weak outside foot can create and performing a U-turn. Perhaps so, but this isn't a criticism of Gabby and he should be applauded for retaining possession; mostly picking out Fabian Delph and Stephen Warnock with his return balls.
And therein lies a clue to a root cause of our failure to create many meaningful chances; both full backs played a relatively conservative game, staying deep and did not offer much of an overlap option. The heat map below shows that although Warnock and Luke Young were far from pinned in their own half, the final third of the pitch largely eluded them.
Warnock and Young attempted four out of Villa's total 15 crosses, none of them were completed and only Young's single cross came from a position within the final 18 yards of the pitch. Warnock, when he did push forward, could often be seen squeezing in towards the middle himself.
There was something very deliberate about this, something very "safe".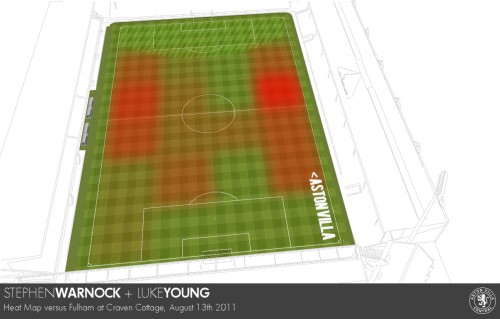 Lack of width
This post isn't intended as a criticism of the team's performance, I'm not dissatisfied with the point and clean sheet away to a side whose competitive season began at the end of June. However, lack of width has been something of a feature during pre-season. Of course, it's been a pre-season where we played all but the final game with only a single recognised winger in the squad; Marc Albrighton.
I'm not concerned about the left sided bias, that will correct itself in time as N'Zogbia settles in and regains his match fitness. It's curious that we've yet to see both N'Zogbia and Albrighton on the pitch at the same time, but there's plenty of time over the course of the season ahead.
The future use of the full backs will be a point of interest though. Inverted wingers seem to be a favoured tactic, quite rightly so in my opinion, but that really requires intelligent use of the full backs to avoid everything becoming too congested in the middle.
Ultimately, if the pitch becomes too compact, it could squeeze Darren Bent out of the game. Bent thrives on being able to exploit space between defenders, he loves to sit on the shoulders of the last man, he loves to take advantage of defenders panicked by speedy breaks. His impact will be greatly reduced if play is routinely stopped in its tracks and the ball sent back where it came from.
As I've already mentioned recently, we have three home games in eight days coming up, those games demand some rotation and will provide a useful insight into McLeish's approach to squad use and tactics.
The conservative deployment of the full backs at Craven Cottage points to a side that will concede less goals than in the past, but I hope it doesn't stifle the attacking potency at the other end too much.
With a fully fit N'Zogbia, a little better balance on the field, a bit of creativity in the middle and a greater sense of adventure down the flanks, this side will surely score goals.
[The graphics in this post were created using Opta data sourced from Who Scored, ESPN and The Guardian]