Written by Dan on September 28, 2011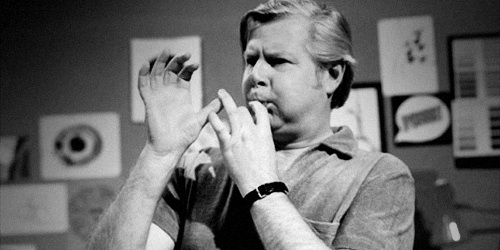 As you're probably all too aware, the 1-1 draw at QPR on Sunday was our 5th draw of the season. And we've only played six games. And we remain unbeaten. You knew that, right?
Of course you did.
You might not be aware that this means we've drawn 83.33% of the (admittedly limited number of) games so far, or that we'll finish up drawing 31 or 32 games by the end of the season if this pattern continues. It won't continue of course, but you get the point.
We're drawing a lot of games.
Today's post comes with its own theme tune, simply click the play button below and continue reading. If you're of a certain age, you might enjoy it.
(This audio clip has been removed)
Draws are not exactly a new problem though, here's a sample of the all time Premier League table sorted by draws expressed as a percentage of games played: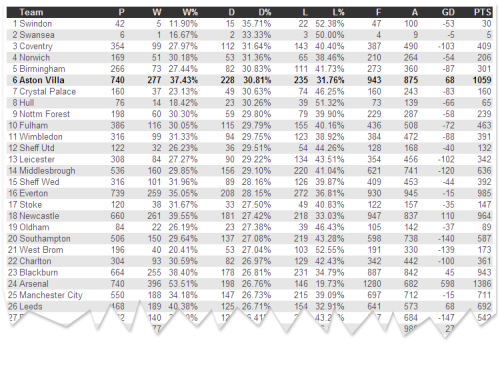 I would suggest ignoring Swansea, they're an outlier at this stage and deserve to rack up at least one season before being judged.
If you're uncomfortable about spotting the team above us are only just above us, you probably won't want to know that we'll overtake them if the next game is a draw. Sorry, I just told you anyway.
Doesn't matter, it's bound to happen at some point this season regardless of the next result. On the plus side, you have to be in the Premier League to create a record in the Premier League and I've a feeling that their record won't be altered any time soon.
Incidentally, Alex McLeish's draw rate at Birmingham City in the Premier League was 35.00%, Steve Bruce's was 28.48%. McLeish lost a little less than Bruce, Bruce won a little more than McLeish, the net result was a near identical points per game rate of 1.130 for McLeish and 1.139 for Bruce.
Record
The highest number of draws we've seen as a percentage of all the games played at any level in Aston Villa's history was the 44.74% Martin O'Neill drew in 2006/07.
MON was able to use that as a platform to build upon; never losing more than he did during that first season, turning draws into wins during '07/08 and '08/09, and, finally, a couple of loses into draws in '09/10. Each season's performance was better than the one that preceded it.
But that isn't the trend over the years for Aston Villa. The graph below illustrates our Win/Loss/Draw mix for every top flight season since 1888. Unfortunately, the trend lines appear to tell us that losses have remained fairly static, but draws have gradually increased over the years. Naturally, that has come at the expense of wins.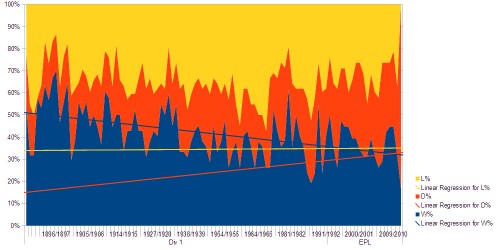 Last season was frequently described as "transitional", but in the end it transitioned to nowhere and can rightly be considered a write-off. Now it's about steadying the ship and rectifying the financial wrongs of the past.
I'm frequently reminded of an old saying from motor racing – specifically Formula 1 – which says in order to finish first, first you have to finish. In other words, there's no point having the fastest car on the grid if it is unreliable. First you make it reliable, then you make it competitive.
Whether it was deliberate or not, that's essentially what O'Neill did, albeit by being incredibly wasteful with the money he had to spend. Could McLeish do something similar, but on a budget? It's not impossible, we know his record with Rangers wasn't dissimilar to O'Neill's with Celtic, but the bigger question is whether the fans have the patience for such an approach.
Unfortunately, the truth is that in lieu of another super rich tycoon arriving to replicate what we're currently witnessing in the blue half of Manchester, there is no other way forward.
Gabby recently talked about setting the target of improving on last season's 48 points, MON's 50 points from 2006/07 would be the next logical target. He drew a record 17 games that season, I could live with that again if it provided a similar platform to build upon over the coming seasons.
Whether there is the collective patience to build again over several seasons while trying to fend off the inevitable interest in our best young players from predatory clubs is another thing, but what choice is there?
None. So, a draw is a draw. A point is a point. We're still unbeaten. On to the next one.