Written by Dan on July 25, 2011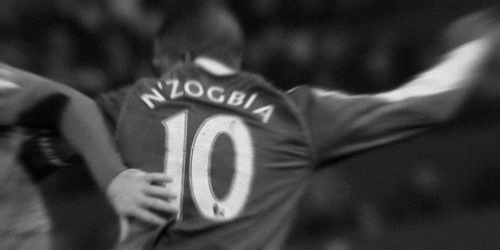 It's a pretty rare event that we'll receive official confirmation of an agreement being reached to purchase a player before the actual transfer itself is announced, but that's apparently the situation with Charles N'Zogbia. It's all over bar the shouting.
I'm sure such steps wouldn't have been taken if it wasn't a formality, it's just a shame that the player won't have the chance to hook up with his new team mates in Hong Kong due to a lack of work visa. Then again, looking at the pictures of the boys sweating their… well, sweating a lot… he'll probably be happy to avoid that particular pleasure.
It doesn't really matter whether we consider N'Zogbia a replacement for Stewart Downing or Ashley Young -or both – he's obviously a wide man that predominantly plays on the left, but can switch to the other flank too. Since it seems to be almost nailed on at this stage, I thought it might be worth looking at his Premier League stats from last season alongside Downing, Young and Marc Albrighton.
Before we look at the numbers, it's worth remembering that context is important. At the risk of boring regular readers, I'm reminded of the Newcastle fans that scoffed at the £12m fee we paid for James Milner on account of his poor scoring and assist record the previous season. That was at Newcastle, he did much better at Villa the following season and improved again the season after that. He's not been as productive at City, but we'll leave that there.
Not that N'Zogbia's numbers are poor, quite the opposite actually, I just wanted to stress that in all likelihood they'll be even better in a claret and blue shirt. Particularly with assists; it takes two to Tango and Bent, Gabby and Delfouneso are pretty handy on the dance floor.
Statistical comparison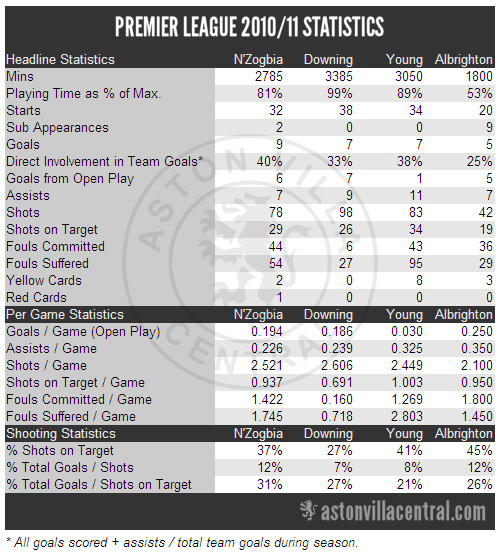 N'Zogbia played 81% of the maximum number of minutes in the Premier League last year – a little on the low side – but still either scored or assisted on 40% of Wigan's total goals. I've added a separate line for goals scored from open play since four of Young's seven goals came from the spot, which doesn't provide a fair comparison.
N'Zogbia's "per game" metrics are more than comparable with Downing, Young and Albrighton. As I've already mentioned, I can only see those figures improving at Villa. In the interests of fairness, I should concede that I see the same thing happening for Downing and Young at their new clubs, but that's not out concern any longer.
And finally, the third section in the above table suggests that N'Zogbia will score goals for us. If you include Young's two free kicks, but exclude the penalties, he, Downing, and Albrighton scored 15 goals between them last season. N'Zogbia and Albrighton scored 14 between them on the same basis, and Marc barely played more than 50% of the season.
It's interesting to note just how poor Young's scoring record was from open play consider that he spent the first three-quarters behind the striker; a position he seemed to feel was his best. Ironically, he delivered more assists last season than the one before, but less goals.
Aston Villa 1 Wigan Athletic 1
Just for fun, since it's still reasonably fresh, I thought I'd take a quick glance at the 1-1 draw with Wigan at Villa Park in May. If you'll recall; N'Zogbia opened the scoring in the tenth minute with a very well taken strike only for Young to restore the status quo seven minutes later, doubling his free kick tally for the season in the process.
Albrighton came on for the second half in place of Emile Heskey, who was lucky to avoid being sent off after losing his rag with the referee. N'Zogbia played the first 70 minutes.
You can click the graphic below for a full sized version, but even at this size it should be possible to make out the comparative positional discipline N'Zogbia and Albrighton seem to employ. N'Zogbia clearly switched flanks during the game, but still stuck to one side or the other. While it's true that we played 4-4-2 during the first half and 4-2-3-1 during the second half, there's no noticeable difference when it comes to Downing and Young; they both enjoyed roaming around the pitch throughout the game.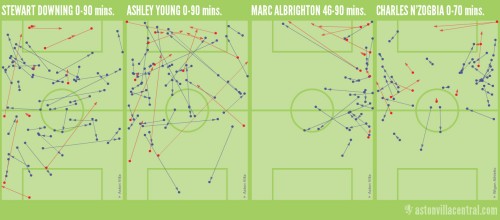 If we extrapolate Albrighton and N'Zogbia's passing statistics for the time they were on the pitch over 90 minutes we would find that Downing (77% complete) and Albrighton (69%) completed 36 passes each, N'Zogbia (73%) 35, and Young (72%) 34. Not a great deal in it, but there certainly aren't any "Hollywood" passes on N'Zogbia's chart.
You may notice that N'Zogbia didn't put any crosses into the box (those two corners don't count), but that isn't anything to be concerned about, it wasn't part of Wigan's game plan. The graphic below shows all of the crosses both sides put in during the game, successful and unsuccessful. When you consider that possession and completed pass share were pretty similar – although edged by Wigan – it's easy to conclude that Wigan had a different philosophy in the final third to Villa.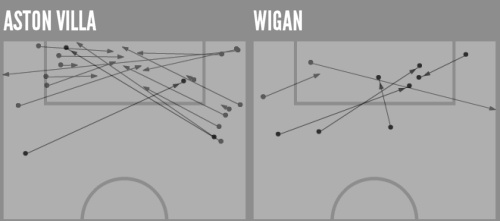 Overall, my personal feeling is that we're getting a very good replacement for Stewart Downing, possibly even an upgrade, and for about half what we sold him for. I hate to roll out the "nice bit of business" cliché, but that's probably exactly what it will turn out to be.
One of the stats I haven't touched on here is "dribbles". Apparently, only Lionel Messi attempted more dribbles (331) than N'Zogbia (301) across the top five European leagues last season. It's true, he may well be tackled frequently, but he still completed more dribbles (110) than any other player in the Premier League last season.
As frustrating as it might be seeing players dispossessed while overly keen to take on the opposition, I think I'd still rather see that than the early cross inevitably sent harmlessly over Darren Bent's head. There's definitely potential for more exciting wing play. And goals… did I mention goals?
Charles N'Zogbia is expected to complete his move this week.