Written by Dan on August 4, 2010
Ian posted an interesting comparison between the 2008/09 Aston Villa and Tottenham employee costs at Aston Villa News & Views recently and noticed an intriguing difference in the number of people employed by the clubs given their apparent similarities.
Tottenham's wage bill has been a popular curiosity for Villa fans since they were evidently able to get through 2008/09 spending £10m less than we did on employees.
I share Ian's confusion about how Tottenham can apparently run their operation with considerably less staff than Villa, especially since they consistently turn over significantly larger revenues than Villa, as the table below reveals.

However, I'm not sure I follow Ian's logic with the conclusions he comes to, but as the main cause of high employee costs stem from the football related employees, not the people in marketing, retail, administration etc., I'm not going to worry about the headcount in those areas. Randy Lerner knows what he's doing and if he felt the structure wasn't right at Villa Park, he would have changed it by now.
Big Picture
To start circling in on the root cause for our high wage bill in comparison with Tottenham, you have to look at the slighter larger picture and include the data from 2007/08. As you can see below, our total wage bill for the 2007/08 financial year was £50m which compares favourably with Tottenham's £53m. However, the 40% jump to £70m leap-frogged Tottenham's £60m for 2008/09, creating the current disparity.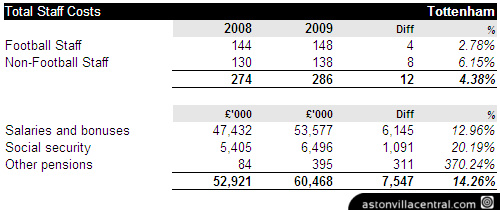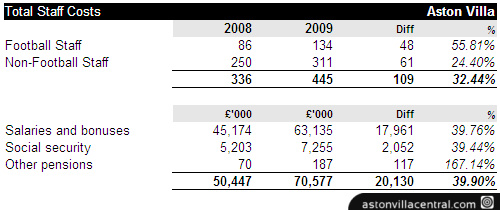 Ian noticed that Tottenham and Villa have similar numbers of football staff, so I think he then focused on the number of non-football staff to make his assumptions. What he seemingly didn't notice was the massive increase in football related staff at Villa from 2008 to 2009. Tottenham only increased their head count on the football side of the operation by 4 people, Villa added no less than 48 members of staff.
That's a staggering increase and I have a hazy memory of covering it here before, speculating that perhaps the club incorporated staff from previously separate accounts into this line item. The academy was my guess I think, but I stress that's a guess, I just can't explain how 48 people were added otherwise.
The Devil's In The Detail
Now, the group accounts don't itemise the costs of the different groups of staff, so we'd be left to speculate about how much the additional employees contributed to the overall £20m increase from 2008 to 2009 if it wasn't for the club accounts which reveal the following:-

Yes. The 86 members of staff listed as "Directors, players, football management and coaches" cost the business £40m in 2008 and that bill increased to nearly £61m in 2009 for 134 employees. Therefore, the entire £20m increase in the total wage bill at Villa Park from 2008 to 2009 can effectively be attributed to the football staff.
In fact, you may have grabbed your calculator and spotted that the non-football wage bill for 2008 was £10.4m and it actually dropped to £9.9m in 2009 despite increasing the headcount by 61 people.
Doesn't make a whole lot of sense, does it? That is just one of many reasons why I'll happily leave the running of the club to those who clearly know what they're doing. I honestly don't know why we appear to have so many more people on the non-football side of the business than Tottenham, but as they only account for 14% of the total wage bill, I don't much care either.
Players In, Players Out
Besides the massive increase in headcount within the football staff, we know the senior players who were added to the Villa wage bill for the first time in during the 2008/09 financial year:-
Steve Sidwell, Brad Friedel, Brad Guzan, Nicky Shorey, Luke Young, Carlos Cuellar and James Milner all came on board during the summer, with Emile Heskey joining during the January transfer window.
To balance that in part, heading the other direction were:-
Patrik Berger, Thomas Sorensen, Ollie Mellberg and Shaun Maloney during the summer and it's worth considering that Wayne Routledge left just before Heskey came in, while Gary Cahill and Luke Moore came off the books during the latter part of the 07/08 season, so were at least partially including in the 2008 wage bill.
The bottom line is the net increase in headcount to 134 football related employees, including the player movements above, added £20m to the overall wage bill at Villa Park. Of course, that 08/09 wage bill does not include the likes of Dunne, Collins, Warnock or Downing who all joined last summer with Gareth Barry the only significant reduction in overhead.
Stretched To The Limits
I believe the player wages at Villa, in terms of proportion of revenue, have been over reported somewhat, but we're definitely right at the boundaries of what we can sensibly commit to. Remember, when we sign a new player, we're committing to paying him the agreed terms for the length of his contract, typically 4 years. As we've found recently, off loading a high earner isn't straightforward in today's economy.
We know that Aston Villa's revenue in 2008/09 was £84.2m and we also know the cost of the 134 football related employees was £60.7m, which is 72% of turnover that year. We can only hazard a guess how much of that cost was purely player costs, but £55m, as an example, would be 65% of revenue and £50m would be around 60% of revenue, which are the sort of limits it's generally thought a football club should apply on player salaries to avoid excessive risk.
With last season's player additions and the failure to secure additional Europa League revenue, while I wouldn't go so far as to suggest we're in dire straights, we must be right on the bubble of realistic limits. It's hardly surprising that there's been a number of players the club have said they'd be willing to listen to offers for and no loud noises about purely adding new players. Sell to buy, transfer lists, use the terminology of your own choosing, the reality is the same.
I'm afraid these are the facts that Villa fans must take on board when they're dreaming up their wish lists of 2 or 3 highly paid players they'd accept in place of James Milner. It's not the transfer fee that's the big issue, it's the salaries for the next three or four years.
I don't know what Stephen Ireland is paid at Man City, but he signed his current contract, which expires in 2014, in May '09. He was on £26k a week before that. I'll leave you to speculate. Shaun Wright-Phillips is contracted at City until 2012 and famously turned down a new deal worth £70k a week in March of this year. Robbie Keane's contract takes him through to 2013 with Spurs and his weekly wages are thought to be £80k.
As they say in America: you do the math.
No, really, please do it.