Written by Dan on October 4, 2011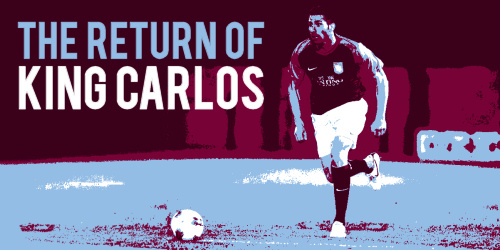 Carlos Cuellar got on the pitch last night for the first time since his knee operation in May, playing 45 minutes in the reserves' 1-0 win over Chelsea – Callum Robinson with the goal – and says that he's feeling good.
That's great news for a very popular player, but what happens from here remains to be seen. It seemed likely that Rangers would have pursued their interest to conclusion during the summer had it not been for his knee injury.
Whether or not Rangers reignite their interest is immaterial; there clearly wasn't a great deal of resistance to letting a player in the final year of his contract, and on fairly substantial wages, go. Sadly.
Not only are Richard Dunne and James Collins back to their best, they both have an extra year on their contracts over Cuellar, and the pair of them have exhibited some serious seniority within the pecking order from the outset. They're also very much a partnership, frequently greater than the sum of their parts together, but less so when separated.
With Ciaran Clark and, to a lesser degree, Nathan Baker waiting in the wings, it's difficult to see a long term path ahead for Cuellar. Difficult, but not impossible. Long term injuries during the winter months are always a prospect, perhaps opportunity might present itself and that might be enough to make negotiating a new contract more feasible.
Dunne is the oldest centre back at 32, but both Collins and Cuellar are more comfortable on the right, so Clark seems to have become the de facto cover for the Irishman. Clark can also fill in at left back, which is something Cuellar can do on the other side.
And, let's face it, on showings so far, Cuellar can almost match Alan Hutton in the final third, but offers significantly more defensively. It will probably come down to the wage budget, but we know that Habib Beye will finally be off the payroll next summer, surely Cuellar is worthy of the money he'll free up.
Personally, I really hope we can keep him, he's a solid player, but also extremely likeable. There's a few years in his legs yet, he'll never give us less than 100%, and he'll do it with a smile on his face.
But one step at a time. For now, it's good to see him back playing in claret and blue. Hopefully it won't be too long before he's back in first team action.
Welcome back, King Carlos.