Written by Dan on October 1, 2010
Marc Albrighton crashing into the first team with such style this season could be the real catalyst for raising this question, after all, Stephen Ireland was considered a like-for-like swap for James Milner and there's no reason in the world why I'd be asking where Milner would fit in if he was still with us now.
Albrighton made a name for himself last summer with some fine performances with the first team during the Peace Cup in Spain, an opportunity afforded to him as Gabby, Milner and Gardner had been given extra time off after taking part in the European Under-21 tournament in Sweden.
I think he would have played a significant part in pre-season 2010 in any case, but the fact that Milner was again given extra time off – the World Cup this time – and Ash was pushed into a more forward, central role to cover the lack of fit strikers, also magnified the opportunity to play. And boy did he play well.
Now we've ended up with a 4-4-1-1 system with Ash playing a key role, in an advanced position, but encouraged to roam as necessary. At times it's looked good, at others the line separating it from the ubiquitous 4-4-2 have been revealed to be soft, blurry and frequently trampled.
Stewart Downing has shown signs of why MON thought he'd be worth splurging £12m on and is currently the joint leading scorer at Villa. I'm not sure what the fact that he's sharing that record with Emile Heskey says, but it remains just that, a fact, make of it what you will.
And, of course, our attacking quartet has been spearheaded at various times by John Carew, Gabby Agbonlahor and Emile Heskey, three players more than capable of dividing opinion, but that opinion is outside the scope of this piece.
Either playing behind, or frequently wrapped in the middle of this quartet, is the midfield duo, most recently the Petrov / Reo-Coker partnership. I won't lie, I did hope that Petrov making way towards the end of the Wolves game suggested that his days as captain – since that implies he must be picked – could be numbered, but Gérard Houllier seems to have poured cold water on that notion this week.
However, I equally have to admit that we probably don't have a player who can do what Petrov does as well as he does it at the moment, even though I still think that he's almost always the weakest link in most XI's we have on the pitch. To be more specific – and to get to the point – I don't think Stephen Ireland fill Petrov's boots, but the same could be said of Reo-Coker's boots too. Which leaves us with a bit of a problem.
To illustrate this point, I thought I take a look at the passing game of Petrov and Reo-Coker at Molineux, the maps below show the complete passes in blue, the incomplete in red. As you can probably tell, Petrov is on the left and Reo-Coker is on the right.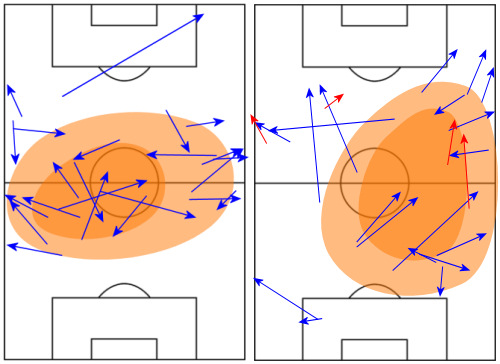 I've added my own "heat maps", there's nothing scientific about it, it's just my own interpretation, but it's easy to see why NRC is so frequently referred to as a "box to box midfielder" in comparison to Stan.
What's also clear, as you study the two players' games, is that Stephen Ireland doesn't really provide a suitable alternative to either player. Clearly NRC is up and down the pitch, breaking up play, carrying and passing the ball around. Petrov is more of a holder, lots of lateral movement, linking up particularly with Downing and Ash on the left.
I took the passes in the above graphic and reassembled them in the graphic below so they all emanate from the same point for each player, forming a "passing wheel" of sorts, highlighting the relative direction and distance of their passes.
Both players attempted 23 passes during the game, Stan completed 100%, whilst NRC completed 19, 83%. Interestingly though, all of the passes NRC failed to complete were in a forward direction, three of the four were in the opposition half. Overall, 74% of the passes NRC attempted were ahead of the horizontal, while just 52% of Stan's passes could be described as forward passes and many of those weren't very forward. The overwhelming majority of Stan's passes were in the middle third of the pitch.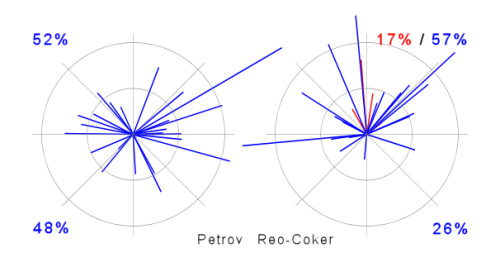 I think the range of passing and movement reveals exactly where Stephen Ireland should be playing, which also happens to be his best position according to most City fans: as a central attacking midfielder as part of a central trio.
Just one problem.
That's kinda what Ash has been doing, although I believe he's failing to drop deep enough and is probing the flanks too much to be as effective in the position as he could be.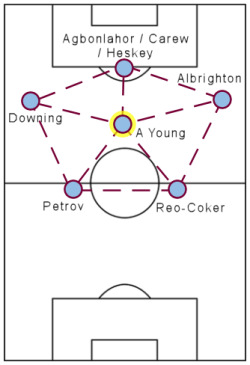 The answer seems obvious and logical; Ireland could be included in his natural attacker / play maker role, ahead of Petrov and Reo-Coker as double pivots, and Ash moves out wide.
In place of who though?
Well, sorry, Albrighton's great, but he's still young and learning. He's also been noticeably tiring inside an hour and perhaps he'd be better employed towards the end of games when his fresh legs against defenders' tired legs can yield the greatest advantage.
It seems simple, but there's another problem.
Houllier has recently said that he doesn't think Ash's best position is on the flank, he seemed to suggest that Ash is better in middle, in the role he's currently occupying. This illustration shows, I think, where we need the play maker and where Ireland would work best. The reality is that Ash has often played too high, which not only detaches him from Petrov and NRC, but has also forced him to play with his back to goal too much for my liking.
Am I alone in sensing that Houllier was avoiding going back on his word when he brought Gabby on to play on the wing whilst Ash remained up top? Nothing wrong with Gabby playing wide of course, nothing new, but it just didn't make a lot of sense under the circumstances.
And that really is the quandary in a nutshell: Ireland doesn't seem to fit the central midfield holding roles occupied by Stan and Reo-Coker, but placing him further forward as the point in a central triangle forces Ash to the wing, a position that Houllier doesn't think is his best – and means dropping a winger, most likely Albrighton.
But that's the manager's job, to figure these things out. One concern I have is that Houllier won't be building the solution around a 4-2-3-1 framework (which I think is the key to unlocking Ireland's potential), but will instead be more focused on a 4-4-1-1 / 4-4-2 system, believing that be more suited to the English game.
I hope I'm wrong, I don't really have anything tangible to back that assertion up beyond most of the criticism from Liverpool fans of his tactical approach at Liverpool – certainly in the second half of his time at Anfield – reads almost exactly like a lot of the criticism aimed at MON from Villa fans: 4-4-2, too rigid, too much long ball, too one dimensional, too predictable, lacks plan B.
I'm not making any of those up, I've read them all and had to check that it was indeed Houllier I was reading about, not Martin O'Neill. Let's hope the six years of separation from the English game, rather than being the problem some fans seemed to feel it would be, will actually be beneficial.
My hope lies with Houllier's two year stint with Lyon, where I think his approach was more sophisticated, and the fact that he was one of many authors of the FIFA technical report on the last World Cup where the widespread adoption of 4-2-3-1 and the decline of 4-4-2 was duly noted.