Written by Dan on September 8, 2010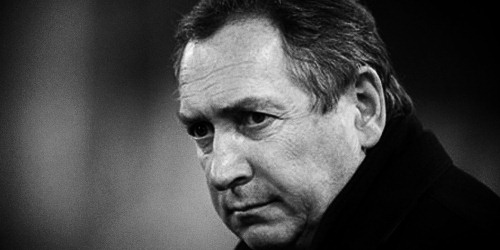 I thought I'd pull together a Gerard Houllier mini-biography of sorts while we wait for the inevitable announcement, expected sometime very soon.
Lens & PSG 1982 – 1988
A significant part of Houllier's playing and early management career took place in Le Touquet, a small town near Calais that many English holidaymakers will know fairly well, but his first appointment of note was at Lens in 1982 for what would be their fourth season in Ligue 1 following promotion in 1979.
Houllier guided Lens to 4th place in his first season and UEFA Cup qualification, although was less impressive in his second season, finishing 13th in the league, but managed a quarter final appearance in the Coupe de France and went as far as the 3rd round in the UEFA Cup.
Houllier's third and final season in Lens ended with more a respectable 7th place finish in the league, somewhat better than his next charge, Paris St Germain, who finished below his Lens outfit that year in 13th.
Houllier lead PSG to the league title and an FA Cup semi-final in his first season, but did little with the Champions League qualification the following year, losing in the first round to Czechoslovakia's Vítkovice. League form deteriorated, finishing the 86/87 season in 7th and the 87/88 season in 13th place.
Houllier's overall record with PSG after 122 games was 55 wins (45%), 33 draws (27%) and 34 losses (28%).
French National Team 1988 – 1998
Henri Michel lead France to the '86 World Cup semi-finals in Mexico, but had subsequently been struggling with the national side. After failing to qualify for Euro '88 and embarrassingly drawing 1-1 against Cyprus during the 1990 World Cup qualification campaign, Michel Platini was appointed as manager in his place and Gerard Houllier took up a position as technical director.
Platini was unable to save the World Cup qualification, so focus was shifted to the 1992 European Championships in Sweden. France possibly flattered to deceive, winning all eight of their qualification matches, but ultimately choked on the big stage, exiting the competition after the group round following draws against the hosts and England in their first two games and losing the third game to the unlikely eventual champions, Denmark.
Of course, none of us will need much reminding of England's equally dismal performance in Sweden… to quote a certain manager at the time, "do I not like that!"
After Sweden, Platini stepped down and Houllier took over, but lasted just a year after France failed to qualify for WC'94, Houllier famously blaming David Ginola's over-hit cross in the final minute against Bulgaria with the game tied at 1-1. Bulgaria ran the ball back down the other end of the pitch and Kostadinov thumped it emphatically into the net to book their place in the United States at France's expense.
Still, we were treated to some superb performance from Hristo Stoichkov in America as a result, so perhaps we should be thanking Monsieurs Ginola and Houllier.
Although 12 matches in charge is too small a sample to attach much significance to, Houllier's 58% win rate with the French national side was the best record at the time, although each subsequent manager has improved upon that performance with the unsurprising exception of Raymond Domenech.
After stepping down as manager, Houllier continued on as technical director for the French national side leading, of course, to France winning the '98 World Cup on home soil.
Liverpool 1998 – 2004
After the tournament, Houllier headed to Liverpool, supposedly as a replacement for the retiring Ronnie Moran, a long time member of the Liverpool coaching staff. Somehow though, Houllier ended up being appointed as co-manager alongside Roy Evans who had done a very decent job over the previous several seasons rescuing the club from Graeme Souness' less than successful tenure, but had probably hit something of a glass ceiling in terms of league position.
The dual-manager thing went as well as you might expect and Evans resigned in November, leaving Houllier in sole charge. You can see Houllier's Premier League stats at Liverpool here, but during his time in Merseyside he also won the FA Cup, the League Cup twice and the UEFA Cup, Liverpool's first European silverware for 15 years at the time.
In the end, Houllier seemed the victim of staleness on top of heavy criticism for a number of poor signings and was replaced by Rafa Benitez in 2004, who would go on to win the Champions League in his first season. As I mentioned before, it shouldn't go without note that seven of the starting XI in Istanbul were signed by the man so berated for the quality of his signings.
Lyon 2005-2007
After Lyon had racked up four straight Ligue 1 titles, Houllier continued the domestic trend, extending the title run to six championships, but a Champions League quarter final exit at the hands of AC Milan in his first season and a round of 16 defeat to Roma the following year, despite topping out their group which contained Real Madrid both seasons, meant his remit to turn domestic dominance into European success was not fulfilled.
During his two seasons with Lyon, Houllier usually employed a 4-5-1 system, but favoured a more attacking 4-3-3 in the Champions League, spearheaded by our very own John Carew, often flanked on either side by Florent Malouda and Sylvain Wiltord.
Of course, as I've mentioned several times already I'm sure, Gerrard Houllier will, for me, always me the man that MON took to the cleaners when he agreed to the Baros/Carew swap and I can't help being pessimistic about the nature of the relationship between Frenchman and Norwegian. Incidentally though, Baros moved on to Galatasaray in 2008 where he's managed to rack up an impressive 48 goals in 63 games.
I'm unclear whether Houllier retained his role with the French national side all along, or returned to it at some point after he left Lyon, but he will be resigning from his position as technical director to come to Villa.
Summary
Here's a summary table of Houllier's senior club management record and although he's clearly not an out and out winner in the Mourinho mold, very few are and the success and experience he has is probably about as much as we could have sensibly hoped for, if not more, given the circumstances.
On a personal level, I can't claim to be Houllier's number one fan, but if you asked me 15 years ago, I probably would have said the same thing about Martin O'Neill. A lot depends on his remit, but I'm reasonably confident that he's not being asked to conduct any kind of root and branch reform, hopefully just extend the last four years' progress.
Criticism about player transfers will persist with most managers, it's something the world and his dog can have an opinion on, but I don't pay too much attention to people who insist on focusing on the negatives while casually dismissing the positives they don't come close to negating.
| | | | | | | |
| --- | --- | --- | --- | --- | --- | --- |
| Season | Team | League | FA Cup | League Cup | UEFA Cup | Champions League |
| 1982/83 | Lens | 4 | | N/A | | |
| 1983/84 | Lens | 13 | QF | N/A | 3rd Rnd | |
| 1984/85 | Lens | 7 | R16 | N/A | | |
| 1985/86 | PSG | Champions | SF | N/A | | |
| 1986/87 | PSG | 7 | | N/A | | 1st Rnd |
| 1987/88 | PSG | 13 | | N/A | | |
| 1998/99 | Liverpool | 7 | 4th Rnd | 4th Rnd | 3rd Rnd | |
| 1999/00 | Liverpool | 4 | 4th Rnd | 3rd Rnd | | |
| 2000/01 | Liverpool | 3 | Champions | Champions | Champions | |
| 2001/02 | Liverpool | 2 | 4th Rnd | 3rd Rnd | | QF |
| 2002/03 | Liverpool | 5 | 4th Rnd | Champions | QF | 1st Grp Stg |
| 2003/04 | Liverpool | 4 | 5th Rnd | 4th Rnd | 4th Rnd | |
| 2005/06 | Lyon | Champions | QF | 2nd Rnd | | QF |
| 2006/07 | Lyon | Champions | R16 | Final | | R16 |
I think the general consensus among rational Liverpool fans is that Houllier did a decent job at their club, especially during the first four years, Benitez just did better. Opinions will vary on how much Houllier facilitated Benitez's success, but I doubt many would argue that he was seriously detrimental to Liverpool's progress over the last 10 years.
One thing's for sure, whatever your opinion on Houllier, we haven't won a trophy for 14 years and he's won six in that time, plus he had a hand in a World Cup win. At 63, he's clearly not a long term solution, but his record would suggest that he's more successful during the early stages in any case and long term managers are the exception rather than the rule.
I'm just looking forward to this whole thing being settled so that we can put this state of flux behind us and get on with this season.