Written by Dan on April 21, 2011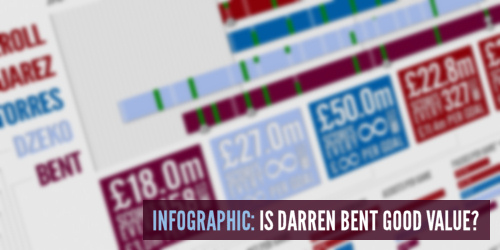 I was one of a number of people to Re-Tweet this little gem before the kick off at Upton Park last weekend: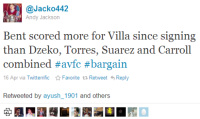 I noticed one or two people copy & pasting the contents, including both hashtags, to pass it off as their own (which is pretty lame), but I believe @Jacko442 is the originator.
By the final whistle, Bent had added to his tally and had another one chalked off for a foul only the referee saw. (You can add that to the one incorrectly discounted for an offside recently).
As for Caroll, Suarez, Torres and Dzeko… well, erm, not so much.
Of course, we don't need stats and graphs to know whether Darren Bent was good value, but I thought it might be interesting to look at the five high profile moves from January in more detail anyway. You know, just for fun.
The data in the image below covers the period each player has been at their new club up until last Sunday, April 17th. Fernando Torres got 23 minutes at the end of Chelsea's 3-1 win over Birmingham City last night, but with only one offside, a foul and five passes to show for it, I thought it cruel to re-work the data to include that extra game.
Well, okay, I couldn't be bothered, most of the work had already been done and it's hardly worth the effort, now is it?
You can click on the image below to enlarge with a lightbox, the quality of which will depend on the size of your screen.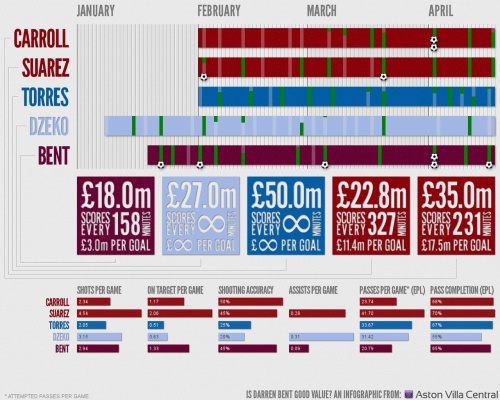 So, any questions?
Actually, I've got a question… who was it who said it was an act of desperation again?
EDIT: I've just discovered that I've done Edin Dzeko a bit of a disservice here by managing to exclude six European and FA Cup games where he bagged four goals – this was supposed to be a fair comparison across all competitions.
The reason for the error was a database problem at ESPN where Dzeko apparently has two records:

I'll rework the data at some point when I get some time, but it looks like his four goals and extra games comes out at a goal every 258 minutes. (btw, Bent's goal against Stoke takes him to a goal every 148 minutes now!)