Written by Dan on August 12, 2009

Knowing that the Aston Villa Academy lads had won some seven-a-side tournament in Hong Kong the last couple of years, I was curious about whether they were defending their title this year. In all honesty, it was something I forgot to check up on.
Worry not, today the OS brought us the sad news that the young lions were beaten by Rangers in the semi-finals of this year's competition. My curiosity re-ignited, I went in search of more information. When did this tournament take place?
Believe it or not, the answer is the 30th and 31st of May!!
On the positive side, I did manage to find a high resolution academy team pic, albeit from last year. Just in case you don't get much chance to see some of the youngsters coming through the ranks, this might be an opportunity to put some faces to names. (You can click on the pic for the full 3888×2592 pixel image).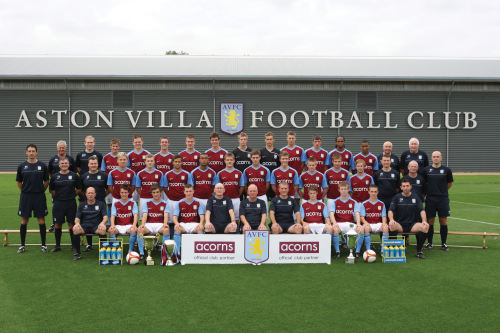 Reading from left to right:
Back row: Rafael Gonzalez (Academy Goalkeeping Coach), Paul Brackwell
(Head of Education & Welfare), Kenny McMillan (Sports Scientist),
Marc Albrighton, Calum Flanagan, Sam Simmonds, James Collins, Ciaran Clark, Elliott Parish, Thomas Dau, Nathan Baker, Richard Blythe, Nathan Delfouneso, Durrell Berry, Syd Stonehouse (Academy Assistant), Clive Lyons (Academy Assistant).
Middle row: Sean Verity (Academy Coach), Sean Kimberley (Youth Development Officer), Dominik Hofbauer, James Clifton, Harry Forrester, Kofi Poyser, Matthew Roome, Gary Gardner, Daniel Bradley, Tomos Roberts, Andreas Weimann,
Barry Bannan, Paul Rastrick (Physiotherapist), Bob Parsons (Academy Assistant), Ben Petty (Academy Coach).
Front row: Gordon Cowans (Youth Team Coach), Ryan Simmonds, William Grocott, Jason Lampkin, Tony McAndrew (Youth Team Manager), Bryan Jones (Academy Manager), Steve Burns (Assistant Academy Manager), Andras Stieber, Ben Love, Jack Dyer, Chris Malkin (Academy Physiotherapist).